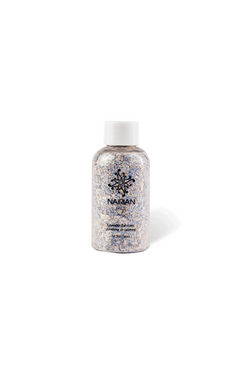 Filled with delicate Cornflower Petals and Organic Lavender Buds, this nourishing scrub exfoliates and restores skin's healthy glow. Our Lavender Exfoliant will gently remove dead cells, excess oil, dust and makeup residues, and possible toxic substances. Enjoy a two-in-one effect, as this nourishing scrub can also serve as a face mask. 
After thorough cleansing and care, your skin will regain its youthful glow and radiance.
Combine a dash of this exfoliant with Nairian Cleanser or a botanical oil, to reveal fresh, smooth and beautiful skin.
The Lavender Exfoliant is ideal for both young and mature skin. For the best results, use Nairian Toner and Moisturizer after the scrub.
In your palm mix a small amount of scrub with a squeeze of Nairian Cleanser, or a few drops of water or botanical oil. Gently massage into skin, and then rinse away. By leaving  the mix on the face for several minutes before washing it away you can get it to work as a mask.  
Avoid using around the eyes or on damaged skin.
Oryza Sativa (Rice) Powder, Centaurea Cyanus (Cornflower) Petal Powder*, Kaolin, Lavandula Angustifolia (Lavender) Bud Powder*, Avena Sativa (Oat) Kernel Powder, Matricaria Recutita (Chamomile) Flower Powder*, Calendula Officinalis (Calendula) Petal Powder*, Lavandula Angustifolia (Lavender) Flower Oil. 
Components of 100% Pure Essential Oils: Linalool.
*Certified Organic Ingredients