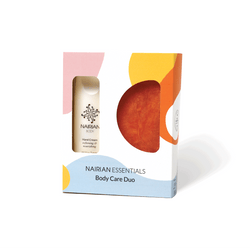 Duo Set - Hand Cream, Sea Buckthorn Soap
This duo will be right at home sitting on your sink, or you can mix it up by keeping our rejuvenating Sea Buckthorn soap in the shower and our lightly antibacterial Hand Cream in your bag for moisturizing on the go. This set features oils, extracts, and essential oils distilled and cold-pressed in our lab, from natural plants that we've grown on our farm. Ziziphora and Almond oil make for a moisturizing and soothing Hand Cream, while Sea Buckthorn oil, Grape Seed oil, and Menthol make for an antioxidant packed soap that will relax and calm your skin. Made here in Armenia, with your beauty in mind and your health at heart.   
Hand Cream: Rose Distillate, Sweet Almond Nut Oil, Sunflower Seed Oil, Castor Seed Oil, Glyceryl Stearate, Cetearyl Alcohol, Glycerin, Hydrogenated Palm & Palm Kernel Glycerides, Cupuaçu Butter, Panthenol, Honey, 1,3-Propanediol, Sodium Stearoyl Lactylate, Sodium Lactate, Sweet Orange Peel Oil, Allantoin, Tocopherol, Sodium Benzoate, Sodium Levulinate, Sodium Anisate, Geranium Oil, Lactic Acid, Ziziphora Leaf & Flower Oil, Sodium Phytate. 
Components of 100% Pure Essential Oils: Limonene, Linalool, Citronellol, Geraniol. 
Sea Buckthorn Soap: Purified Water, Coconut Oil*, Castor Oil*, Olive Oil*, Lactic Acid, Sodium Stearate, Sorbitol, Citric Acid, Apricot Kernel Oil, Sea Buckthorn Oil, Sweet Orange Peel Oil, Bergamot Fruit Oil, Rose Geranium Leaf Oil, Melissa Leaf Oil. 
*Saponified Oils